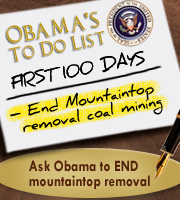 For the first time ever during a campaign, both presidential candidates urged a moratorium on mountaintop removal mining. This once-regional issue now has the attention of the nation. Help us build on this momentum to end this destructive practice.
In his first 100 days as President, Mr. Obama has the power to stop most current mountaintop removal mining. Here's how:
Reverse the Bush Mine Waste Giveaways: In the 11th hour, the Bush administration weakened the Stream Buffer Zone, allowing companies to dump mine waste into streams and rivers, worsening an earlier Bush ruling that has accelerated the pace of mountaintop removal coal mining.
Enforce the Law: The coal industry has routinely ignored the Clean Water Act and the Stream Buffer Zone Rule. President Obama should demand that these and other rules be enforced, and hold the EPA, the Office of Surface Mining, Reclamation, and Enforcement, and the Army Corps of Engineers accountable.
Urge Congress to Pass the Clean Water Protection Act: The Clean Water Protection Act is necessary to both permanently protect clean drinking water for many of our nation's cities and to protect Appalachian coalfield residents who face frequent catastrophic flooding and pollution as a result of mountaintop removal.
Prioritize Appalachia in America's Clean Energy Future: Some mountaintops in Appalachia have huge wind power potential and would be more beneficial in that regard than as flattened landscape. President Obama should make Environmental Impact Assessments and economic analyses mandatory as part of his New Energy for America Plan. With finite and declining coal reserves and jobs, Obama needs to ensure Appalachia receives attention and support in the Administration's new energy plan that includes $150 billion dollars invested in green, union jobs.
"We have to find more environmentally sound ways of mining coal, than simply blowing the tops off mountains."
Barack Obama, Lexington, KY –
August 27, 2007